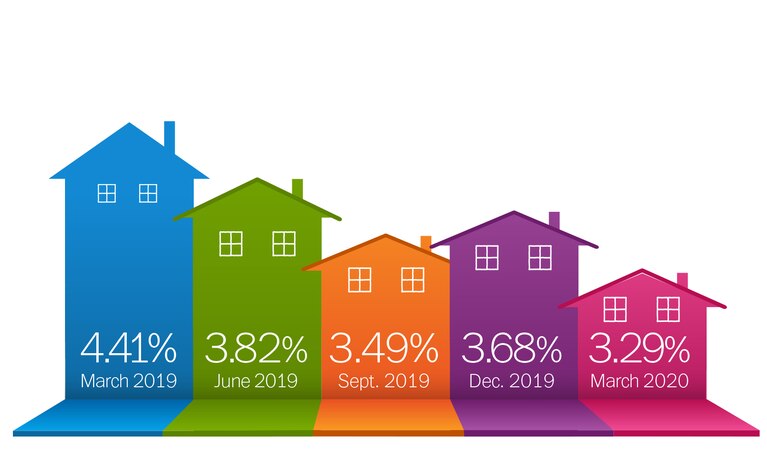 Dear Friends, and clients,
As the world nervously watches the spread of COVID-19 (Coronavirus), the pandemic has begun prompting responses from every industry, and nearly every organization in the world. Perhaps like those of us on The Hoffman Murphy Team, there is a much anticipated social gathering or recreational league you or a family member enjoy has just been canceled or postponed indefinitely. Professional sporting events, concerts, and schools are affected as well.
How then, has COVID-19 affected the real estate market?
Lawrence Yu, Chief Economist for the National Association of Realtors, had anticipated about 5.5 million sales of previously owned homes this year (an increase from 2019 and 2018).
That's because
borrowing costs have plunged to lows never before seen
(e.g., an average interest rate of 3.29% on a 30-year fixed-rate mortgage) and the job market is strong. Obviously, though, no one could have foreseen a virus disrupting market conditions at the start of 2020.
But just how disruptive is it? Even In the hardest-hit counties in the nation, Realtors are reporting that homes are still being bought and sold like normal. Though there has been the occasional seller canceling an open house or removing a listing entirely, the fact remains that properties are still moving, because people want to own a home to live in and people have a desire to move to another state or a new home. We have been selling Real Estate for 30 years here in the South Bay and have seen this hold true.
Yes, experts are tampering their expectations for the spring market slightly. The most significant impact is the fact that sellers may be less likely to list their homes right now, which could dampen hopes that significantly more inventory would hit the market come spring and alleviate the supply stress. You might ask yourself if you are a Serious Seller can and or a Serious Buyers? If you have considered selling your home, this may just be a perfect time. And if you have considered buying also amazing with our interest rates so low!
Ultimately, you have to determine what's right for you as a home buyer or home seller. Our job isn't to push you into a decision you're not comfortable with, but rather to provide hyperlocal context that may be lost in the national media coverage.
Our market is still thriving.
Of course, the degree and nature of the COVID-19 outbreak may change, and that's why we will continue to provide you with the most up-to-date information possible.
It's important that we listen to the medical professionals who are bearing the brunt of this, working hard to treat the infected, and developing a vaccine. We must all do our part to slow the progression.
So what can you do if you have your good hygiene habits down but still aren't sure if it's right to begin the home selling or home buying process?
If you're practicing social distancing, I'd be happy to offer you a virtual consultation. There's no need to meet in person
. We can discuss your specific needs in detail, and I can also provide you with a virtual tour of homes you may be interested in.
If you have any real estate-related questions or you want more specific stats on how our market is performing, please reach out to us anytime. For COVID-19-related questions, routinely check the Centers for Disease Control website or contact medical professionals.
Sincerely,
The Hoffman Murphy Team