PURCHASING YOUR HOME
FIRST TIME HOMEBUYER
Buying your first home is a major decision; being a homeowner comes with many advantages. A mortgage payment combined with property taxes and insurance is often the same or only slightly more than monthly rent. And, you will be building equity with each payment. Additionally, your payments will be offset by tax savings from mortgage interest deductions, which constitute most of the payment in the early years of a mortgage.
One hurdle in the first-time buyer's purchase is producing cash for the down payment and buyer's closing costs. Our team can position our buyers to best compete to win the home of their dreams. There are more terms outside price that can make your offer more desirable.
MOVE UP BUYER
Need to sell before you can buy and are afraid you won't have anywhere to go? We can walk you through the process to avoid the hassle of moving twice.
A good place to start the entire process is to visit a Hoffman Murphy preferred lender to "pre-qualify" and establish your maximum loan amount. This loan maximum, coupled with your available cash, will determine the price range in which you should look. You can begin shopping by researching community features you want and need, remembering that "location-location-location" can be as important as the home itself.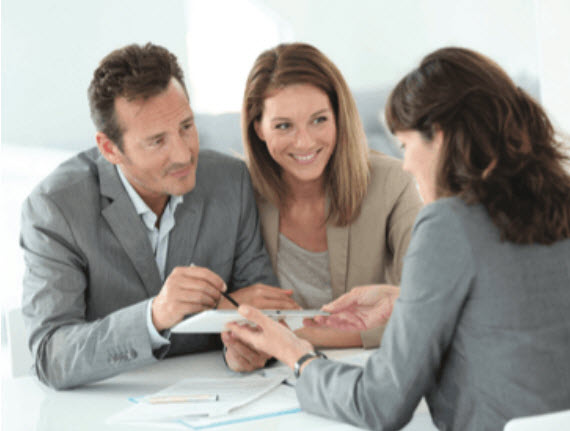 WORKING WITH AN AGENT
Buying a home is usually an emotional decision, and you need the counsel of a reputable, knowledgeable real estate professional who can help you buy wisely. As a first-time buyer, professional real estate assistance can be crucial. You should insist that the agent work with you as a "buyer's agent" to be your advocate in the transaction. In most cases, this agent is still paid out of the seller's commission paid at closing, so you will not pay extra to be represented by a good agent. See the suggestions for selecting a qualified agent; you do not have to be moving from one city to another to take advantage of these suggestions.
A good agent can help you evaluate the pros and cons of purchasing a single family home, condominium, or townhouse, and what the various types of ownership mean to you. Should you buy a resale home or new construction, and what kinds of inspections or warranties should you seek in each situation? When making an offer, how much below listing price can you offer, and how does the price compare to similar homes on the market? Are you negotiating terms and other costs (home warranty, for example) as well as price? What do you do if inspections uncover needed repairs? Are there any factors related to the house or neighborhood, which could create resale problems? What closing costs are considered typical?
Once you have settled on a community and seen several homes, the next step is to make an offer on a home you like. If you and the seller, with the negotiating help of your agent, come to terms and you execute a sales contract, you will then finalize your mortgage. The mortgage company will require a home inspection and a title search. You may have to coordinate your closing date based on when the seller can purchase another home and vacate.